Golf fans dream of teeing it up in the historic Scottish and Irish homes of the sport, while many certified divers long for the exquisite experiences of the Great Barrier Reef or Cayman Islands. These classic destinations may seem like fantasies to armchair travelers, but if you're an avid enthusiast, chances are you have either made or seriously considered the pilgrimage.
Likewise, many passionate road cyclists have already ridden in classic destinations like Tuscany, the Napa Valley, and the Burgundy region of France. But unlike golf courses or dive sites, there are roads nearly everywhere. Countless destinations are vying to be the next mecca for cyclists. Beat the cycling crowds at these five spots destined to be new classics.
Southern Italy
Northern Italy and Tuscany are iconic cycling spots — so much so that virtually every tour operator leads trips there. The result can be beautiful roads clogged with support vans and matching bikes. That's hardly the case in Puglia, which features one of the longest stretches of coastal exposure in Italy to go along with perfect weather, beaches, Greek and Roman ruins, and the most olive oil production in the nation. Empty roads make for perfect cycling, and many of the region's unique masserias, fortified ancient houses, have been converted into luxury boutique resorts.
"Puglia is a hot destination for those seeking an easygoing cycling trip, with unique masseria-style hotels and a welcoming people," says Robbin McKinney, founder and owner of Great Explorations, an experienced and respected company offering trips in the region.
The Carolinas


Bicycling Magazine listed the Blue Ridge Parkway among its rides of a lifetime, and former pro cyclist George Hincapie, who holds the record for most Tour de France races finished, opened the nation's first and only cycling-focused hotel here. Backroads, the nation's highest profile tour operator since 1979, agrees and calls the area "the cycling capital of the South." The company recently launched a trip that runs from Asheville, North Carolina, to Greenville, South Carolina — both frequently named to various "Best Cities" lists — with a stay at Hincapie's Hotel Domestique and a visit to the Vanderbilt family's famed Biltmore Estate.
Denmark
The largely flat country won't challenge cyclists with long climbs, but it has what many consider the best riding roads in the world. Its unrivaled system of car-free bike paths have been dubbed "biking superhighways" by luxury tour outfitter Butterfield & Robinson (B&R). With a huge percentage of the country's population commuting by bike, drivers are respectful and roads are impeccably maintained. Along with quality riding, the country boasts many charms, from cutting-edge architecture and design to ancient pastel houses and waterfront fishing villages. But it's the dramatic rise of "New Nordic cuisine" and some of the world's best dining that caused B&R to recently add Denmark to its global list of white glove escorted trips.
Ireland's Wild West
Irish hospitality is legendary, and the country's natural beauty is reflected in its nickname, the Emerald Isle, but because of its narrow, twisting roads, Ireland has never gotten the biking respect it deserves. That has been changing fast, as top tour outfitters have discovered the island's rugged and less-trafficked West coast. The government just created the Wild Atlantic Way, which it bills as the world's longest defined coastal touring route. Highlights include the Ring of Kerry, stunning castles, the mythical rock formations of Burren National Park, the offshore Aran Islands, and the mountains of Connemara. At every stop there is warm welcome, Irish music, afternoon tea, and, of course, pints of Guinness. REI Adventures, the travel arm of the famed outdoor retailer, was among the first to jump on this new hotspot after the coastal path was announced.
Argentina and Chile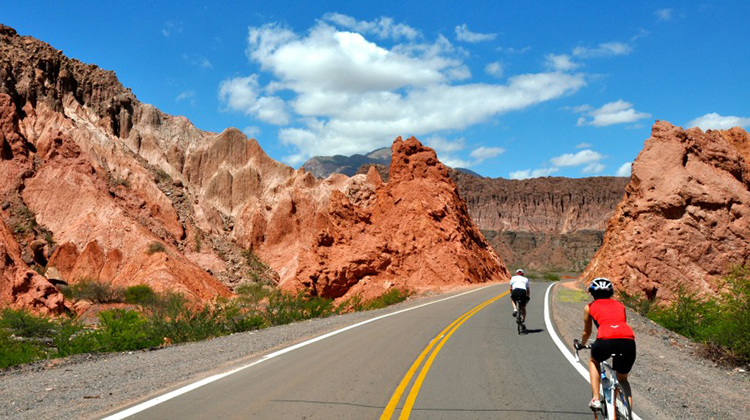 Napa, Burgundy, and Tuscany have long been classic cycling destinations, but outfitters agree that Argentina and Chile are the sport's new hotspots for wine aficionados, especially with reversed seasons in the Southern Hemisphere appealing to U.S. travelers looking to escape the winter. One of the first to embrace the region was Cari Gray, owner of Gray & Co., which exclusively offers private bespoke trips. Gray describes the route between Argentina's Salta and Cafayate as "smooth pavement and stunning red rock that make it one of best road bike rides in South America — if not the world." She is equally bullish on Chile, which offers numerous trips in close proximity to its deluxe lodge properties.
"The vineyards south of Santiago are the ultimate place to stay and sip, while just outside adventure-capital Pucon, you ride among lakes and conical volcanoes," she says. The mix of vineyards, coast, high mountains, and desert are unrivaled — with almost no traffic.