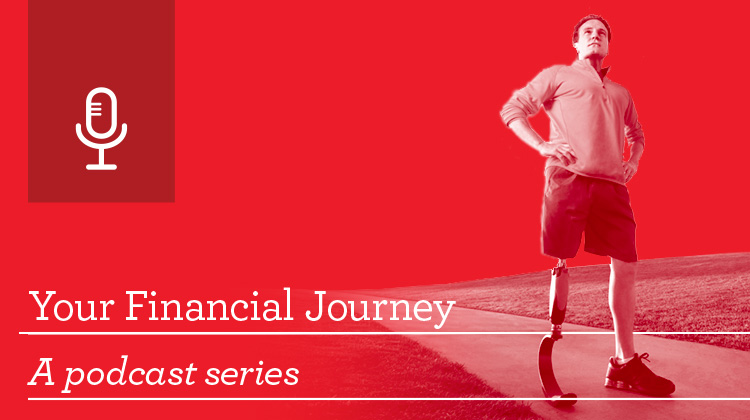 Podcast Transcript
Host: Rob Miles, Senior Vice President, Wells Fargo Private Bank
Guest: Felicia Chang, Senior Wealth Planning Strategist, Wells Fargo Private Bank
[Rob]:
No matter how much you plan, you can't predict the future. How can you protect your family against risks like a disability or unexpected death of a spouse, partner, or family member?
I'm Rob Miles, Senior Vice President for Wells Fargo Private Bank, and this is "Your Financial Journey" — a podcast series that explores common financial matters. I am joined today by Felicia Chang, Senior Wealth Planning Strategist at Wells Fargo Private Bank, to discuss how to plan for the unexpected. Welcome, Felicia, and thanks for joining us today.
[Felicia]:
Thanks, Rob. It's good to be here.
[Rob]:
We're glad to have you. An unexpected injury or sudden death of a spouse, family member, or partner — these events can be crushing to even think about, but what are some things people can do to plan around unforeseen events?
[Felicia]:
Well, Rob, while these events are unthinkable, there are steps you can take to save you and your family from significant stress and financial headaches if these unimaginable events occur. Steps like having an estate plan and having regular conversations with your spouse, partner, or family member on how to easily locate important financial documents if something should happen to you.
[Rob]:
So Felicia, that makes lots of sense. I think everyone can see the benefit of making those close to you aware of how to find personal information such as bank statements, CPA's name and number, or even in today's world online passwords so they don't have to go on a wild goose chase. Why don't you talk a little bit about why it's important to have an actual estate plan in place?
[Felicia]:
If you don't have an estate plan, Rob, you send your loved ones on those wild goose chases to figure out how you want your estate settled, not to mention the additional stress. Also not having an estate plan can create extensive delays and extra cost in settling your estate.
[Rob]:
So Felicia, as a wealth planning strategist, I know you spend your days working on issues just like this. Can you give an example from your recent experience that would bring this to light?
[Felicia]:
Very recently, Rob, we had an experience with clients that demonstrated the power of having an estate plan. A husband and wife client called their Wells Fargo relationship manager the same day the husband was diagnosed with late-stage cancer. At that point, the husband's primary concern was making sure that his estate plan was in order and that his wife would be taken care of. I quickly reviewed his estate planning documents and after coordinating with the clients' attorney, our team was able to reassure the client in a matter of days that this estate plan was fine and his wife would be taken care of. Sadly, the client passed away three weeks later, but he did so with the peace of mind that he had structures in place to take care of his wife and family. If we had spotted changes that needed to be made, the team would have been able to work with the client's advisors to make sure those important changes got documented. Without an estate plan, a third party — like the state — would have decided what happens to the assets.
[Rob]:
So, Felicia, that's a really great point. Knowing that your wishes are going to be carried out as you intended is very powerful and comforting to all of us. And, to your earlier point, not having to put those you care about through more stress by trying to interpret your wishes is clearly an important consideration. Now, another consideration for families is minor children. How does this change or what do you do if you have minor children?
[Felicia]:
For parents of minor children, it is even more important to have documents in place that designate the people they trust to take care of their children. You should also have the conversation with the people you designated to confirm that they are willing and capable of taking on this huge responsibility. Without legal documents in place, parents will not be able to express their wish or input on who they want to take care of their children.
[Rob]:
So Felicia — scary thought. I would not be comfortable with other people making decisions on caring for my kids. What other considerations should I be thinking about?
[Felicia]:
Well, Rob, if you find yourself in a position where you're unable to make financial decisions, it's important to make sure that you have given someone you trust a power of attorney so they can make financial decisions on your behalf. Likewise, having a health care directive can help you control how important medical decisions are made for you if you're not able to make them yourself.
[Rob]:
So, Felicia, another important consideration for folks is who to put in charge of their estate plan. Can you talk about maybe how to approach that?
[Felicia]:
That's a great question, Rob. Listeners who may be thinking about naming successor trustees of their living trust should think about whether the individuals they've named have the skillset necessary to be in charge of a large estate or are comfortable taking on the legal responsibilities as trustee. An important consideration is whether that friend or family member has the time and/or desire to take on this tremendous legal responsibility. In these situations, a potential solution may be naming Wells Fargo as co-trustees with the family member or friend — that might give you the best of both worlds. A trusted friend or family advisor can give insight and direction on what is needed to take care of the family piece and the professionals at the bank can do the heavy lifting to deal with the technical details.
[Rob]:
So, Felicia, all of this is great advice and very critical to peace of mind for our clients. For our listeners, let me summarize what I've been hearing. Planning for the unexpected can save you and your loved ones from significant stress and financial headaches if the unforeseen happens. And there are a couple things to consider: One, establish an estate plan, which includes a power of attorney and a health care directive And two, tell those who are close to you how to locate this important financial information so that they can find it if necessary.
Felicia, did I get that all right?
[Felicia]:
That's exactly right, Rob.
[Rob]:
Well, Felicia, thanks for your time and your perspective and I want to thank our listeners for joining this podcast. Please join me next time, when we'll be discussing protecting your assets.
This is "Your Financial Journey."